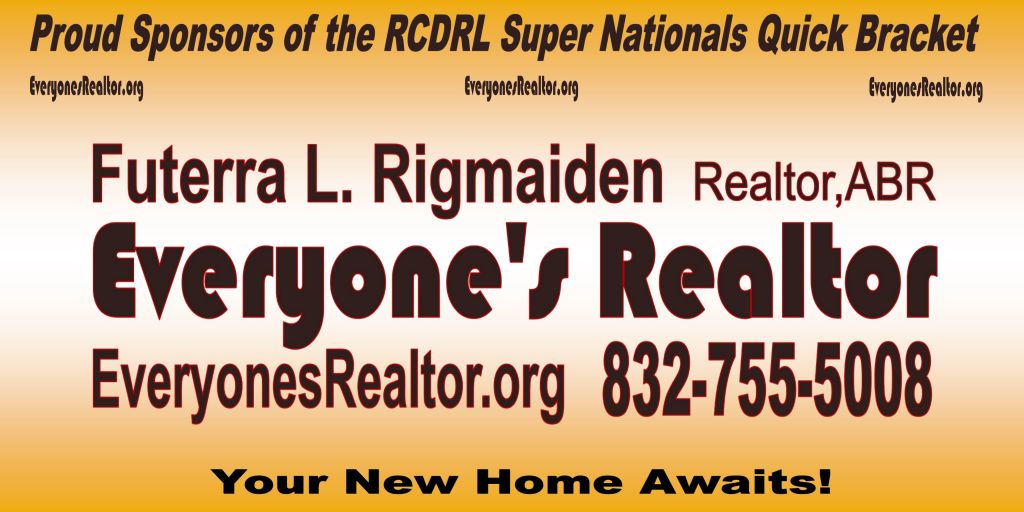 Help me in welcoming the GO BIG Chassis Shop "Quick Bracket" and first-time RCDRL sponsor, Futerra Rigmaiden of EVERYONE'S REALTOR (EveryonesRealtor.org) to the growing list of 2019 class sponsors.
Since 1999 Futerra Rigmaiden has showcased several Houston Homes for stars such as late Astros Pitcher Jose Lima, assisted ones of modest means to find their dream homes, and have had the pleasure of working with some of Texas Most elite builders to provide the most in luxury living. She is looking forward to helping you find your piece of paradise!
Futerra Rigmaiden graduated from Barbara Jordan High School for Careers Magnet Program and married her high school sweetheart who helped fuel her excitement for Drag Racing. She and her husband cherished raising their 2 amazing sons.
She debuted with GSR ( Girl Speed Racing ) in 1999 in her RigTech Motorsports inspired " Tery Red" Pontiac Firebird. Her consistent reaction times and domineering presence in The Footbrake Nationals helped her a force to be reckoned with in 1/4 mile with Bracketmasters. Loved the No Problem Dragway. At Purple Raceway, Red Bull was always there to give her wings!
Delivered the Motorsports News for Ralph Cooper at KCOH and interviewed Racing Celebrities from Willie T. Ribbs of Nascar fame to Drag Racing Royalty Erica Enders to Clay Millican.
She also had the privilege of Hosting Femme fanatic sports Show for MJWJ with her Sidekick the Ragun Cajun and covered Drag Racing Events from ADRL World Finals to Super Bowl interviews with special guests such as Evander Holyfield and Wade Smith.
She has also walked the red carpet with Gow Medias Broadcast Engineer A.D. Rigmaiden and Hall of Famer Warren Moon. She has Composed several articles featured on SportsMap.com and continues to express her enthusiasm for the World of Motorsports.