2019 Go Big Chassis Shop Super Nationals
August 30, 31 and Sept 1, 2019
Lone Star RC Dragway at Texas Motor Speedway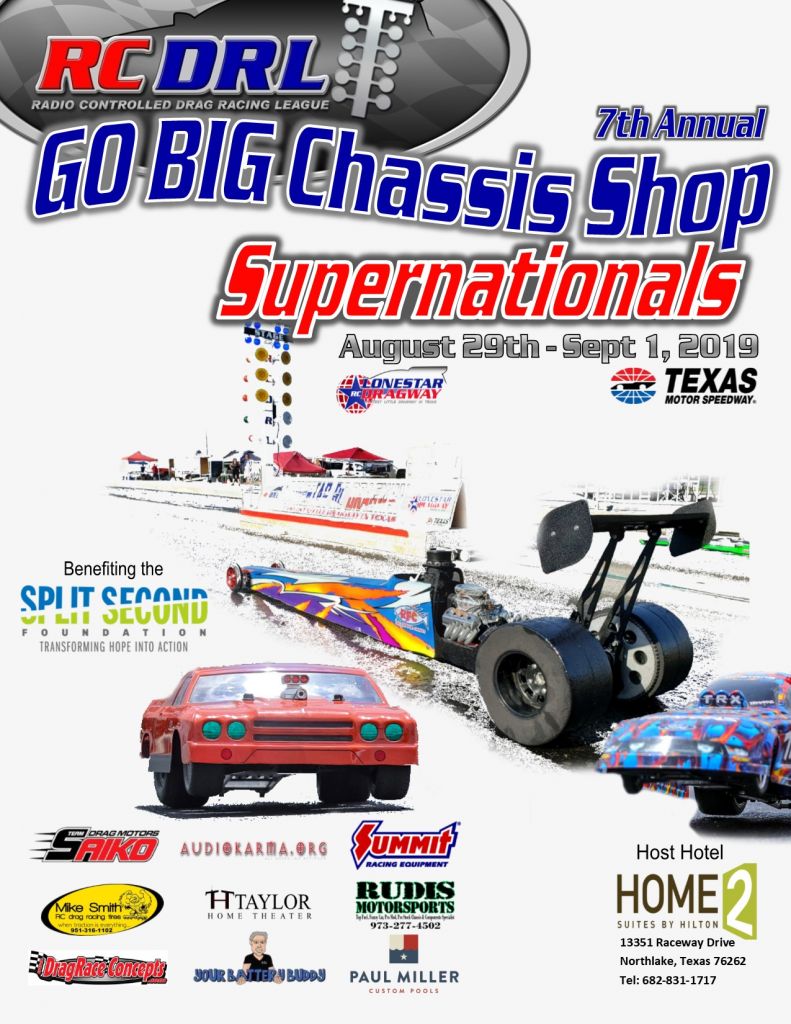 Building on its successful partnership with the Radio Controlled Drag Racing League (RCDRL), Chad and Stephania Howard, owners of Rockstar Welding & Powder Coat, LLC, announces its return to the league in 2019 as title rights sponsor for the 2019 "Go Big Chassis Shop US Super Nationals" the worlds largest RC Drag Racing event. The weekend event will be held over Labour Day weekend August 30- Sept 1, 2019, at the Texas Motor Speedway on the Lonestar RC Dragway in North Fort Worth Texas.
Last year RCDRL Puerto Rico took home the Team Points Competition Championship, who will take it in 2019?
Click on the quick links to learn more about the Go Big Chassis Shop US Super Nationals
For More Info on the Supernationals Visit: http://www.rcdrl.com/supernationals-about/
Based in Denton, Texas, RockStar Welding is the parent company of Go Big Chassis Shop and RockStar Powder Coat, which was the title sponsor of the 6th annual RockStar Powder Coat RCDRL Super Nationals last season.
"This is a very exciting time for our family," RockStar Welding owner Chad Howard said. "We're thrilled to see our name on this wonderful RCDRL event. We had a ball last year and would like to see Go Big Chassis Shop grow in 2019. What better way to do it but to sponsor the worlds largest RC drag racing event. This sponsorship will take us to a new level of recognition."
"We are so pleased that Chad Howard is presenting Go Big Chassis Shop to the RC drag racing community through this title sponsorship," said RCDRL President Michael Mercadel. "Our members love the Howard family and we are excited to see them embrace the Go Big Chassis Shop."
For more information on Go Big Chassis Shop Call Chad (940) 488-4144
Visit them on Facebook: https://www.facebook.com/GoBigChassisShop/
Message: m.me/GoBigChassisShop