RCDRL Preseason Testing gets underway on the LoneStar RC Dragway at the Texas Motor Speedway on Saturday March 2, 2019 from 9am to 4pm. (Gates open at 7am)
It's free to watch and if you're looking to get a taste of the testing action, all that's required is for you to show up with your RC and pay a fee of $20 per person. This price is for all day test-n-tune. (No car limit) An RCDRL membership is not required at our first testing session.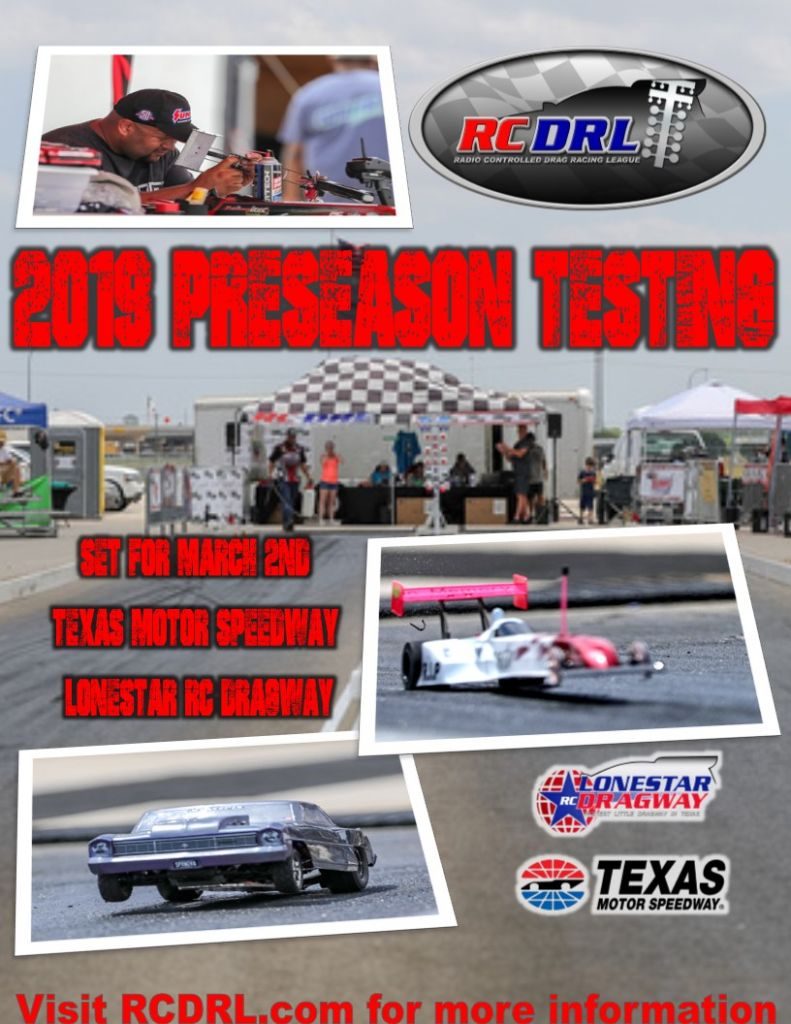 2018 Championship drivers like Zach Shivers, Joshua Mercadel, Chris Markowski, Jeff Schmidt Jr, Eric Bowman, Jeremy Miller, Ant Wren, and Top Fuel Champ Robert St. Pierre are all expected to show up and get some work in before the season-opener. The 2nd Annual Jimmy RAINMAN Schauer Memorial presented by Rudis Motorsports is just one week later, set for March 9th.
While the big numbers are certainly a highlight, teams are primarily looking to dial in tune-ups ahead of the grind that is the Radio Controlled Drag Racing League 2019 Points Championship Season. This goes for drivers and teams that have been around for a long time and those that are just getting their feet wet.
"It will look very similar to a national event hosted by the RCDRL. We are looking forward to a high number of cars from the All Run Bracket, all the way to Top Fuel Dragsters to hit the track at the beginning of March" – said President Michael Mercadel.
If you are a racer of any kind, this is an opportunity you won't want to pass up.