RC Drag Racing is back at the Texas Motor Speedway Saturday, July 14th, 2018! Teams and drivers will be there for the North Carrier Automotive Nationals, race #7 of 8 in the regular season.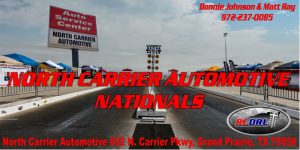 *** Every Race Day is FREE to WATCH so come out and bring the whole family! ***
The RCDRL Texas gang gets back to racing after a 3-week break from the Super Nationals. This is race 7 of 8 of the regular season, the Countdown to the Championship Playoffs are right around the corner. Are you in the Top 10? It's time to make your move in!
Remember, if you don't make it in the playoffs, you can still race all season long and play blocker for your teammates and friends or simply hone your skills and prepare for a 2019 run at a championship!
Donnie Johnson and Matt Ray have been in the automotive repair business since 1975. Donnie worked alongside his friend Matthew for many years before they opened North Carrier Automotive in 1992.
North Carrier Automotive is located at 602 N. Carrier Pkwy, Grand Prairie, TX 75050. The hours of operation are Monday through Friday from 9am to 5pm.
North Carrier Automotive can take care of all of your service needs. They are licensed and insured and also offer a one-year warranty on their service work. North Carrier Automotive does state inspections as well. You can reach Donnie or Matthew at (972)-237-0085. Tell them the RCDRL sent you!
Classes Racing this weekend…
Electric Top Fuel Dragster (3s)
Electric Pro Mod (2s)
Electric Pro Stock (1s)
Traxxas Pro Funny Car (3s)
Traxxas Sportsman Funny Car (2s)
Quick-16 Bracket
2.50 Index
Street Eliminator Bracket (2s)
All Run Bracket
Young Gunners Bracket
***Bring your FM RADIO – Tune in on the Action & Hear when Your Class is on Deck!***